It's not news that COVID-19 flipped the supply chain ecosystem on its head, revealing cracks in an industry ripe for disruption. The gap it caused between supply and demand made it hard to get an holistic overview of the market, as quality, supplier search, and price fluctuations were in disarray. Not to mention, the 'acceleration of everything' concept (discussed in a previous post) certainly didn't spare the global supply chain from struggling to play catch-up with innovations that would get them back on track and close the gap.
Technology is getting more powerful every year, which means adoption times are getting shorter and shorter. This has significant new-age implications on today's companies, and shouts 'High Risk' to those who don't innovate. According to Gartner, Between 2025 and 2030, hyper-automation technologies are expected to mature and enter mainstream adoption. Such technology will help automate supply chains by augmenting human decision-making with accuracy and speed.
Thanks to Michael E. Porter, let's assume you're on this curve below. When competitors do something disruptive, over time, the companies stuck in old processes and systems won't be able to keep up. The more disruption, the more catch up — and there's no amount of hustle or response time that can get them back on that curve.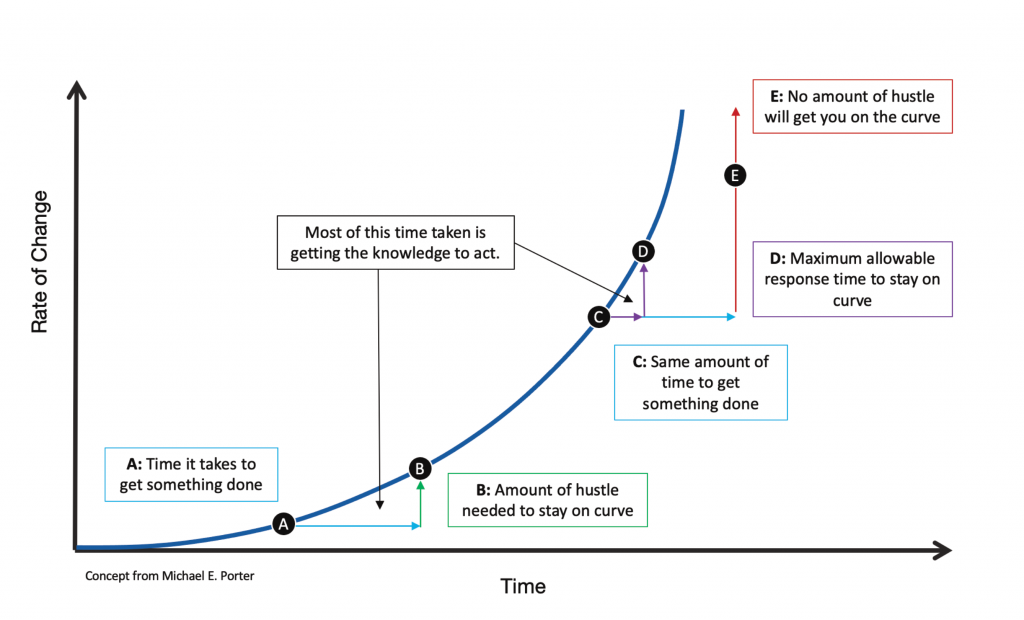 This applies to the traditional supply chain. 2020 and 2021 were years like no other. The global shutdown exposed inefficiencies with lasting repercussions. Businesses were left with billions of dollars in unsold goods, causing inventory-to-sales ratios to surge for a short time before businesses liquidated these inventories. As the economy recovered and demand picked up, businesses struggled to bring inventories back to pre-pandemic levels, causing inventory-to-sales ratios to fall. Pain points revealed themselves:
Disconnected information and teams
Slow response times that lead to missed opportunities
Outdated processes centered around supplier price lists
Lack of price transparency, dirty data, legacy ERP systems
Shortage of tech-savvy resources

There is hope. Industries are evolving and adopting more rapidly than ever, and severe disruption through the pandemic is driving enterprises to make their supply chains more transparent, resilient, and digitized. Utilizing digital tools requires connected supply chain technologies across planning, procurement, manufacturing and logistics, however, without data interoperability at the outset, you lose the opportunity to make these processes as efficient as possible.
That's why the time to act is now, and avoid merely watching this technological evolution catapult up the curve. Companies must harness the tools being created for this rapid advancement to approach things differently – with the right technology that will deliver insights to transform business processes.
A company's ability to improve overall performance will hinge on the decision to adopt new technologies that will help weather future storms and keep them on the curve. Keeping systems up-to-date and avoiding unnecessary added cost and resources can only be achieved by modernizing existing operations, which in turn, will uncover new areas of savings opportunities. The supply chain of the future will be agile and digitally networked for improved transparency from end-to-end.
With today's supply chain challenges, it's more important than ever to ensure operations are as resilient as possible to prevent disruption and ensure business continuity. Understanding which suppliers in the supply chain are most responsive, identifying the right companies to source from, and knowing who you can create maximum leverage with is key to creating a more resilient and predictable supply chain.
Lytica's SupplyLens™ Pro platform was built to equip customers with the data and analysis they need to build better and stronger supply chains through an industry-first database of real-world prices paid by real customers for millions of electronic components. To learn how your company or your client can reach significant levels of cost reduction and risk intelligence, schedule a demo with the Lytica team today. You may also click here to read our full report on the Acceleration of Everything.