State of the Electronic Components Market: May 2023
Accelerated Improvement In Pricing,
Availability, and Lead Times
Lytica is the world's only provider of electronic component spend analytics and risk intelligence using actual customer data. As a result of our unique position in the marketplace, we've been able to work with 100+ customers across industries (including 20% of the Fortune 500) in analyzing over $425 billion in electronic component spend. We've curated up-to-date insights on the state of the electronic component market and will be sharing them with you each month. 
Lytica's component basket of goods used in our analysis is comprised of 15,800 electronic components across 22 categories, consisting of the most popular devices used by our customers. These indices are intended to show trends in the market. Individual component and BoM analysis is offered by Lytica as a service to our customers. 
Electronic Component Price Cuts Accelerated In May
Coming off of April performance where we saw an overall net decrease in price of 0.8% across all electronic component commodities, May proved to be an acceleration of this trend. Lytica saw electronic component prices, on average, fall by an additional 2.1%. When looking at pricing Year-to-Date, electronic component prices are down an average of over 3.5%.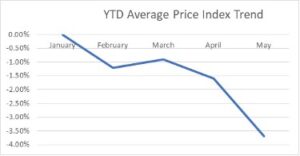 The biggest drivers in this downward pricing trend for the month of May are Resistors (down 4.6% Month-to-Month), Power (down 3.3% Month-to-Month), and Standard Logic (down 3.0% Month-to-Month). There are, however, outliers that buck this trend. For instance, Lytica is seeing three months of continuous average pricing increases for Relays & I/O Modules (up 5.7% Month-to-Month) and Circuit Protection (up 0.5% Month-to-Month) 
However, the larger picture remains that electronic component pricing is continuing to become more attractive to procurement organizations. 
Electronic Component Lead Times Are Also Dropping At A Faster Rate
In April, we saw Month-to-Month lead times improve by 2.8% and, in May, this trend has increased momentum. Average overall lead times for electronic components tracked in May improved by 4%. Much of the trend was driven by further lead time improvements for Programmable Logic (down 28.2%), Clock / Timer (down 16%), and Transistors (down 12.2%).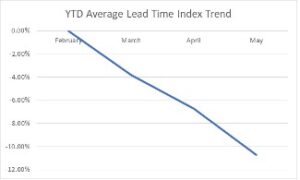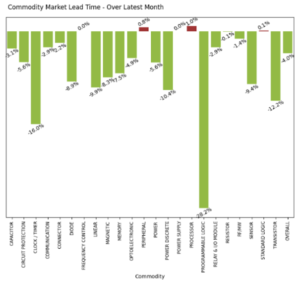 This lead time reduction trend seems to be persistent across a variety of categories of electronic components over the course of the last 3 months. Capacitors, Communication, Diodes, Memory, Power, Resistors, and more categories have all seen 3 consecutive months of lead time easing. 
Electronic Component Availability Continues To Remain High
Finally, much like April, electronic component availability continued to remain high in May. In fact, availability grew by an average of 2% Month-to-Month, moving from 75% to 77%. Lytica is seeing electronic component categories such as Frequency Controls (100% availability), Power Discrete (95% availability), and Capacitors (93% availability) leading the charge on availability while there seem to be potential issues obtaining components in categories such as Programmable Logic (13% availability) and Communication (57% availability). However, overall, the market continues to be healthy for buyers.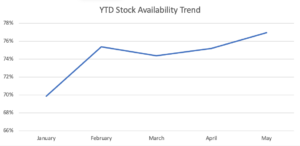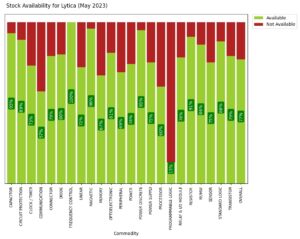 Stay tuned for our next update for June 2023 to see if we continue to see these favorable electronic component purchasing trends continue or if we see a reversal in some areas. Also, if you have any questions, recommendations, or would like to engage with us, please feel free to reach out!