State of the Electronic Components Market: April 2023
Cooling Prices

and Better Lead Times

 
Lytica is the world's only provider of electronic component spend analytics and risk intelligence using actual customer data. As a result of our unique position in the marketplace, we've been able to work with 100+ customers across industries (including 20% of the Fortune 500) in analyzing over $425 billion in electronic component spend. We've curated up-to-date insights on the state of the electronic component market and will be sharing them with you each month. 
Lytica's component basket of goods used in our analysis is comprised of 15,800 electronic components across 22 categories, consisting of the most popular devices used by our customers. These indices are intended to show trends in the market. Individual component and BoM analysis is offered by Lytica as a service to our customers. 
Electronic Component Prices Cooled In April 
April 2023 proved to be a favorable month overall for electronic component procurement. We saw an overall net decrease in price of 0.8% across all commodities – with the most significant reductions seen in "Power" products (2.8% decrease) and "Diodes" (2.1% decrease). Overall, across 22 categories, 18 of them (or 82%) showed a net decrease in price.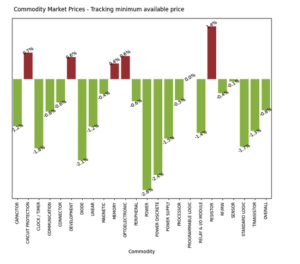 Despite the good news for buyers, we did see slight net increases in "Circuit Protection", "Memory", "Optoelectronic", and "Resistor" commodities. Overall, however, we are seeing continued downward pricing pressure on electronic components. 
Electronic Component Lead Times & Availability Are Also Improving 
April was also a very good month for buyers as it relates to leadtime and availability of electronic components. Our assessment of the market shows lead times improving across virtually all product categories while simultaneously seeing an overall reduction in the number of electronic components experiencing product shortages.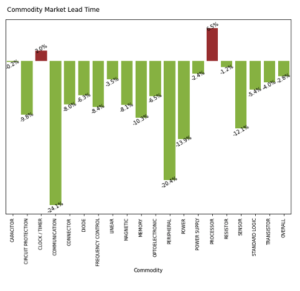 As you can see from the chart above, all but 2 categories ("Processors" and "Clocks / Timers") experienced a reduction in lead times. Overall, April 2023 saw a month-on-month improvement of 2.8% for lead times.  
Finally, regarding electronic component availability, the market remains strong with the overall stock availability index across all electronic components at 83% available. This does have notable exceptions, however, as "Frequency Controls" and "Processors" still have availability of components within those categories below the 50% level.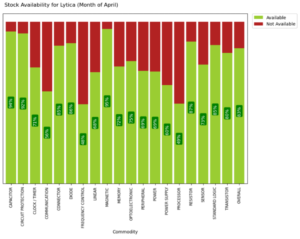 Stay tuned for our next update for May 2023 to see if we continue to see these favorable electronic component purchasing trends continue or if we see a reversal in some areas. Also, if you have any questions, recommendations, or would like to engage with us, please feel free to reach out!