In October, I attended the i2030 National Manufacturing Summit in Ottawa Canada, co-hosted by industry groups the CME (Canadian Manufacturers and Exporters) and the CMC (Canadian Manufacturing Coalition).
The agenda was geared towards manufacturers and, considering our customers worldwide are comprised of OEM, EMS providers and ODMs, it was certainly topical and relevant to Lytica.
Many of the discussion threads touched on the 4th industrial revolution or Industry 4.0 for short.  For the purposes of a refresher and setting the context,  the 1st industrial revolution was denoted by mechanization, water and steam power – indicative of the late 1700's and early 1800's.  The 2nd industrial revolution was brought about by the assembly line, electrification and mass production – late 1800's through early 1900's (Henry Ford is often used to illustrate these points).  The 3rd industrial revolution was illustrated with computer automation – the stuff of assembly robots, data acquisition, digital communication and the like.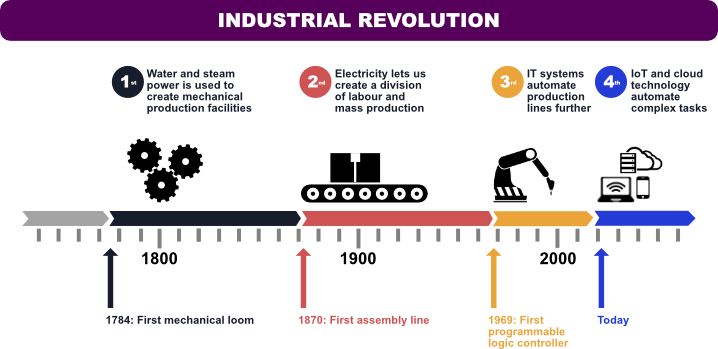 This brings us to the present, on the threshold of what undoubtedly will shape our society to its core – the 4th industrial revolution.  Industry 4.0, comprised of Cyber-Physical Systems (CPS), the IoT and cloud computing.  Where industry and the underlying manufacturing move toward combing big data to mitigate work stoppage and decentralize decision making down to the lowest level possible.  The machine learns so as to become smarter, faster and more accurate in its task; for example, assembly lines that predict failure and trigger maintenance processes autonomously.
In the hyper competitive global marketplace that manufacturers operate in today, revolution is the appropriate phrase.  No one should make the mistake of denying that such a sea change is already upon us or that more change will continue to come at an accelerated rate.  Accelerated is the operative word and not hyperbole.
Witness the phenomenon of Airbnb that is, by estimates, set to grow over 300% in 2016 to nearly 130M room-nights per year; a projection that puts Airbnb in the league of the very largest worldwide hotel chains.  Or look at the current path of automobiles migrating towards self-driving, autonomous vehicles.  The economic impetus of steeply mitigating 1.25M traffic deaths per year globally and greatly increasing the capacity of existing roadways and parking (to name two) is just too compelling.  Remember, Uber was only founded 7 years ago and has become part of our daily lexicon.
One of the tenets of the 4th industrial revolution is leveraging big data and analytics.  Lytica already sees this in the SCM (Supply Chain Management) practices of our current clients. When I consider how SCM teams use Lytica's component price benchmarking tools and reports, I see three common themes within our most innovative clients.
The first theme is to uncover the hidden leverage of their current spend.  These companies are using Freebenchmarking.com (FBDC) to validate their currently held pricing perceptions and to accelerate progress toward cost reduction.  For example, large OEMs – many with a handful of cross divisional commodity managers – now have the ability in relatively real time to measure the competitiveness of their component spend across divisions.  More importantly, FBDC allows them to leverage cost savings based on combined economies.  For vertical markets such as the Industrial sector, particularly large savings are exposed due to duplication, which we define as buying the same or similar MPN parts masked by having different CPNs (Client Part Numbers).  By leveraging big data and Lytica's analytics they are collapsing months of negotiation prep time and cross division data consolidation into a 1 to 2 week period.
The second theme is to institutionalize this data driven approach into their annual and quarterly processes.  For example, using the comprehensive benchmark process described above in the lead-up to the annual negotiation cycle and quarterly business supplier reviews.  A side benefit of a continuous benchmarking philosophy is a running baseline that harmonizes disparate component commodities in a way that the entire material team grows to appreciate.  Today, some of our largest clients are taking price benchmarking data and combining it with other data streams to fit their particular SCM workflow.  These clients are crafting how they leverage this big data and our analytics into a solution that works for them across their often global SCM teams.
Finally, the third theme is that companies are bridging these pragmatic benchmarking practices to their product development process.  If an enterprise estimates product costs too conservatively, the product may never see the light of day.  Conversely, if they estimate product costs too aggressively, the product may perennially bleed red.
No one can argue that Product Innovation and Supply Chain Management isn't a fusion of art and science.  It has to be, since no two companies are governed by the same internal motives or affected in the same way by external stimuli.  Industry 4.0 promises to make this balancing act even more of an imperative.
At Lytica we like to say "We supply the Science – you supply the Art"!
By Mark Tayles – Lytica Inc. President/CEO