State of the Electronic Components Market: June 2023
Finding Price Stability and Slowing Lead Time Improvements
Lytica is the world's only provider of electronic component spend analytics and risk intelligence using actual customer data. As a result of our unique position in the marketplace, we've been able to work with 100+ customers across industries (including 20% of the Fortune 500) in analyzing over $425 billion in electronic component spend. We've curated up-to-date insights on the state of the electronic component market and will be sharing them with you each month. 
Lytica's component basket of goods used in our analysis is comprised of 15,800 electronic components across 22 categories, consisting of the most popular devices used by our customers. These indices are intended to show trends in the market. Individual component and BoM analysis is offered by Lytica as a service to our customers. 
Electronic Component Pricing Has Stabilized in June
In May, we witnessed a second straight month of electronic component price reductions, as prices fell, on average, by 2.1%. Moving into June, electronic component prices were down an average of over 3.5% for the year. However, in June, electronic component pricing rebounded or, at a minimum, stabilized. Prices for electronic components that Lytica tracks are up, on average, by 1.3%.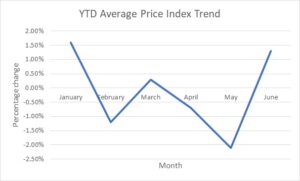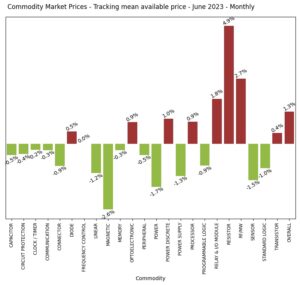 The biggest drivers in this pricing trend reversal are Resistors (up 4.9% Month-to-Month), RF / MW components (up 2.7% Month-to-Month), and Relay & I/O Modules (up 1.8% Month-to-Month). There are, however, outliers that buck this trend. For instance, Lytica is seeing fairly strong downward pricing pressure on Magnetic components (down 2.6% Month-to-Month) and Power components (down 1.7% Month-to-Month). 
Ultimately, this overall price stabilization is something to be monitored as it's unclear if this is a sign of a bottom or simply a bump in the road to lower prices. 
Electronic Component Lead Times Are Also Dropping But At A Slower Rate
In May, we saw average overall lead times for electronic components tracked improve by 4%. June proved to be a continuation of this trend but a slowing one, with lead times improving by just 1.5%. It's important to mention that, across most commodity groups, lead times continued to decline with the notable exceptions of Power Supply (up 65.5% Month-to-Month) and Relay & I/O Modules (up 10.1% Month-to-Month).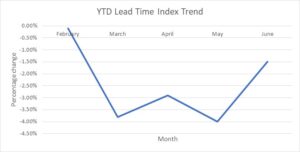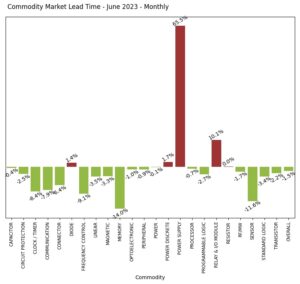 In terms of the leading commodities that halted the basket's movement upwards were Memory (down 14% Month-to-Month) and Sensors (down 11.6% Month-to-Month).
Electronic Component Availability Continues To Remain High
Like May, electronic component availability remained high in June. Lytica saw an overall improvement of 2% Month-to-Month, with 79% of all tracked electronic components available. Those components leading the way from an availability perspective includes Magnetic components (97% Available), Power Discrete (96% Available), and Capacitors (94%).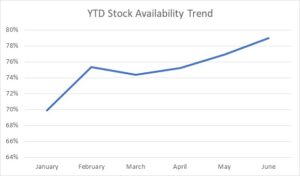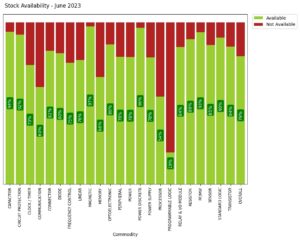 Sign up for our newsletter to get access to our next update for July 2023 – where we'll see if June really was a stabilizing month for the electronic component markets.